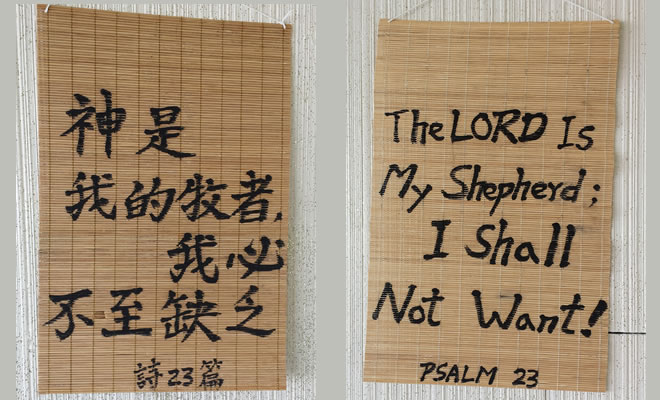 The Shepherd Painting epitomizes Luke 1:37: "For nothing is impossible with God." God knows our human nature, He knows our weaknesses, and in spite of these He wants to carry us through all difficulties and lead us into peace. Entering into this scene of Jesus, the Good Shepherd, carrying the sheep, one can only be inspired by hope that we can cross any bridge–great or small–in the arms of our Shepherd.
This painting also speaks this message through the story of the artist behind the painting. Artist Tim Wang is truly a testament to that which he has painted–that nothing is impossible with God. God has proven this through Wang's testimony of Our Lord's miraculous power, which is in turn forever memorialized in this work of art. The message behind the painting is infinitely deeper because of Wang's experience.
Gazing upon this painting in my home, I am daily strengthened in Christ's promise of hope and endless love. When I need the strength to face any obstacle, The Shepherd Painting continually reminds me that, indeed, "nothing is impossible with God."
-Happy Daddy

God never forgets the one lost sheep. He constantly embraces each and every one of His sheep. We are all that sheep in His arms, perhaps often straying or simply needing to be carried or held. No matter the reason, He holds us with a loving embrace. This love is the message so beautifully expressed by Tim Wang in "The Shepherd."
One cannot but marvel at the beauty of the love that the Father has for us in the beauty of this painting. The Shepherd is with His flock, guiding them as tenderly as He can. It is not often that one finds a piece of modern-day art that provokes the soul to such depths of beauty and elevates the soul toward God. But "The Shepherd" does just that. One can stare endlessly at the herd and its Shepherd and reflect ever more deeply on the beauty and love of God, as well as the beauty and love He has bestowed on us as His children. The painting seems to have endless layers for the soul to encounter its Beloved.
Wang's experience that led to this work of art reinforces this message. The fact that God did not forget His one sheep (Wang) but restored the gift of art to his life is proof that our Shepherd is real here and now. It is proof that God is reaching His arms out to each one of us, saying, "I love you." It is our job to respond to that invitation. Who knows what gifts God has in store for those who enter into His embrace.
Thank you, Tim, for sharing this message of never-ending love with the world through "The Shepherd."
Blessings,
Happy Mommy

Dear Tim,
Everyone loves your painting 'The Shepherd', which has been placed above the fireplace in our living room. It expresses and delivers clearly the message of God's love. It touches everyone's heart and reminds us of the God's words:
"…all the remnant of the house of Israel,
which are borne by me from the belly, which are carried from the womb: And even to your old age I am he; and even to hoar hairs will I carry you: I have made,
and I will bear; even I will carry, and will deliver you…"
(Isaiah 46: 3-4)
Thank you, Tim, for your precious gift. We all appreciate and enjoy it very, very much.
God Bless,
John Chow

My comment on the painting " The Shepherd'"
What I like most about this painting is its colors, the yellow/orange series plus
the gold color that I chosen on the frame makes the whole picture looks so warm, and it matches the theme of this painting "Jesus is our
shepherd".
And I like that there is one sheep Jesus is carrying, it can be a lost sheep or a little sheep, either way, it shows Jesus' love, without word.
It brightens our whole living room from the middle wall that we hang it — it is a daily
inspiration to everyone of us in our family, even our guests.
Thank you Tim !
A. Lin
San Mateo, CA

We purchased two of the paintings for our homes. We loved the painting the moment we saw it. I have mine over my bed and it comforts me to know the Lord is my Father in heaven and that he does watch down upon us all. My close friend and co-worker loves hers and has The Lord is My Shepard at her front entrance into her home. We want everyone to know we put Christ first place in our life and we are proud of it! Now, all we need is one in Sacramento and Washington D.C. to reflect what California and the United States stands for and why our government's constitution is based on. The teachings of Jesus Crhist the true messiah!
R. W. & T. K.
California

Hi Sophia,
Below is my review and my wife's comment on the Shepherd painting. I've also attached the MS Word document.
A note about the reviews. While my wife knows Chinese, she does not know how write Chinese in MS Word or another software. She can translate it by writing on paper, and I can scan the writing and send it as an attachment, if you'd like.
Thank you again for the gift that continues to bless our family and those who visit!
"The Shepherd painting inspires me as a pastor. Just as Henri Nouwen coined the term for ministers, a "wounded healer," the painting illustrates the sheep in the Shepherd's arms as the pastor carried by God's strength in the ministry to the flock of God's Church."
Pastor Dana Chau

"The Shepherd painting is seen by friends, family and church members who visit at my home. I remember one family from China who visited our home. They admired the beauty and asked about the meaning of painting. This provided an opening to sharing about God's relationship with us as the Great Shepherd Who cares about His sheep."
Susan

Alder Point Christian Center
August 21, 2009
Dear Sophia,
"The painting entitled "The Shepherd" by impressionist artist Tim Wang depicts Jesus as our "Good Shepherd" standing in the midst of His sheep tenderly holding a baby lamb. The picture serves to remind us of Jesus' words: "I am the good shepherd and know my sheep, and am known by mine…there shall be one fold and one shepherd…My sheep know my voice and I hear them and they follow me." (John 10:14; 16; 27).
We have this picture on the wall o our sanctuary at church. It serves to remind us that Jesus, Our Good Shepherd, meets our needs as described by David in the 23rd Psalm. Jesus is our spiritual food and drink; he protects us from our enemies, leads us in the right way to go, and anoints us with His Holy Spirit. We can trust His loving car. I would highly recommend this painting to those needing encouragement, strength, or comfort in times of difficulty."
God's Blessings
Rev. Rick Doty
Alderpoint Christian Center A/G

When I first saw the Shepherd painting I as drawn to its simplicity. As I stood and observed it through the storefront window I found myself captivated by the image of Christ amidst the sheep and I envisioned myself as the "one" He was carrying, knowing that many times I have stayed and He has always proven faithful to come and find His wandering sheep.
When I read the history of the painting and the miraculous story of the the artist Tim Wang it made the painting's message even more dramatic. God's faithfulness to allow this gifted artist the ability to continue to share His talent is truly remarkable. I consider the painting to be a gift from God that speaks to all of the love He has shown through His Son Jesus Christ. It is truly one of the finest examples of Christian art that I have ever seen.
Pastor B.I.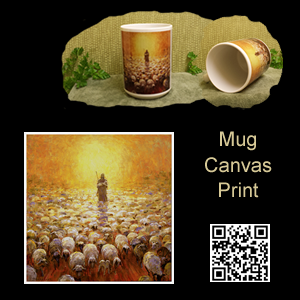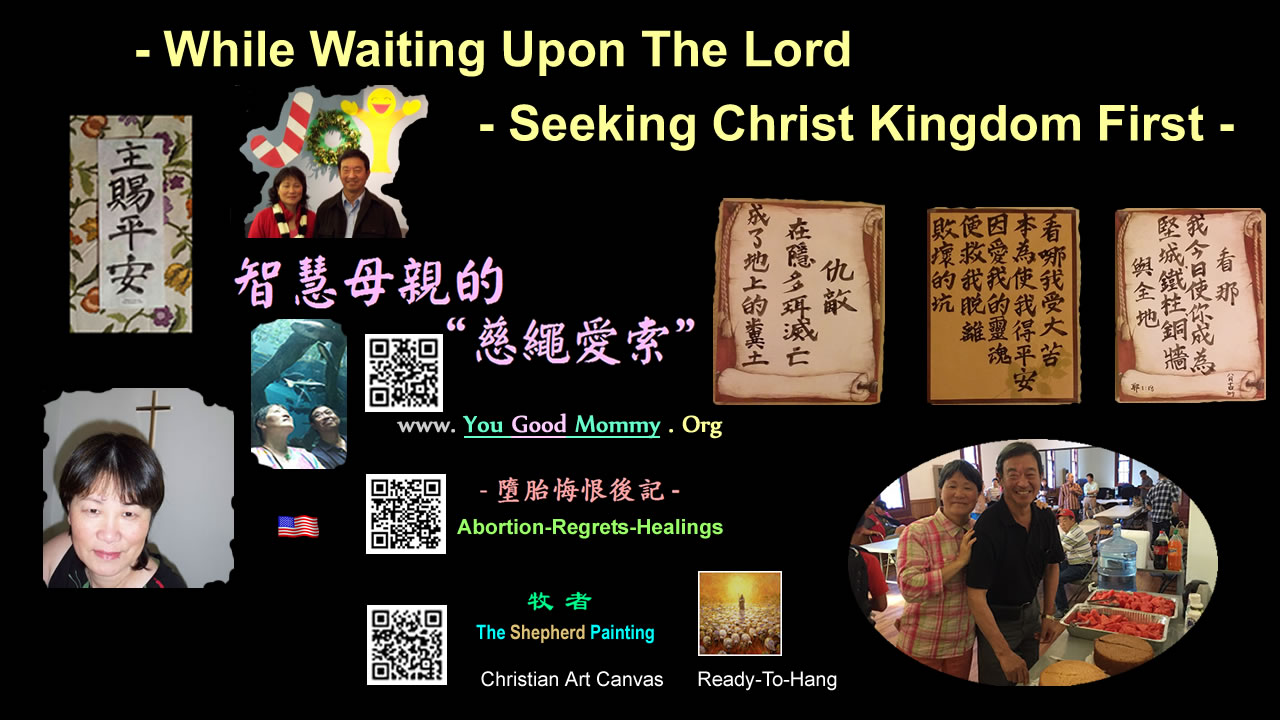 https://www.yougoodmommy.org/